Hannah and Jenny are here for you!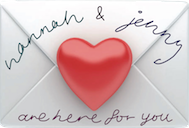 Who we are
Hannah and Jenny are your new agony aunts. We are engaged, complex and empathic women who relish giving advice. We are people with problems who live for helping others!
What we offer
Deep thoughts, personal insights, criticism and of course, practical advice! Our advice is served with a side of honesty, irreverence and humour. We believe laughter is a powerful tool for change.
We advise on work stresses, relationship tensions, friendship frustrations, family feuds, money worries, success jealousy, child challenges, health concerns, pet envy, colleague crushes, body woes, garden boundary disputes, schoolyard shame, sexual secrets, emotional meltdowns, personality deficits, gender conflicts, power imbalances and much, much more. No problem is too big or too small!
How it works
Submit your problems 100% anonymously by clicking on the 'your problem' button at the bottom left of the screen and letting us know what you need help with. Your message will be forwarded to us and we will respond publicly in due course.
Public platform
In keeping with the 'agony aunt' tradition we will be sharing and addressing these problems in public forums. The public face of the project will take the form of live advice sessions, printed matter, website updates etc, so that we can help as many people as possible.
Talk to us
If you have any questions or feedback (because we know we are not perfect! :) ) then please get in touch with us through the 'your problem' button. Include your email address if you would like us to respond directly. 💌
We look forward to solving your problems! Your agony aunts, Hannah and Jenny xx
📆Upcoming: In April 2018 we will hosting a live advice session in Glasgow at The Hidden Garden's community space so stay tuned for details TBC!!!📆